Aquacultural engineering is a multidisciplinary field of engineering that aims to solve technical problems associated with farming aquatic vertebrates, invertebrates, and algae.
What is Aquaculture?
According to FAO (2008), Aquaculture is the rearing of aquatic species in freshwater and brackish/saltwater environments, including applying safe, advanced production techniques to the production process and raising process to improve productivity and quality of aquatic raw materials.
The industry's objective is to train engineers with the knowledge, practical skills and practical application, including the fields of aquaculture, processing and protection of aquatic resources.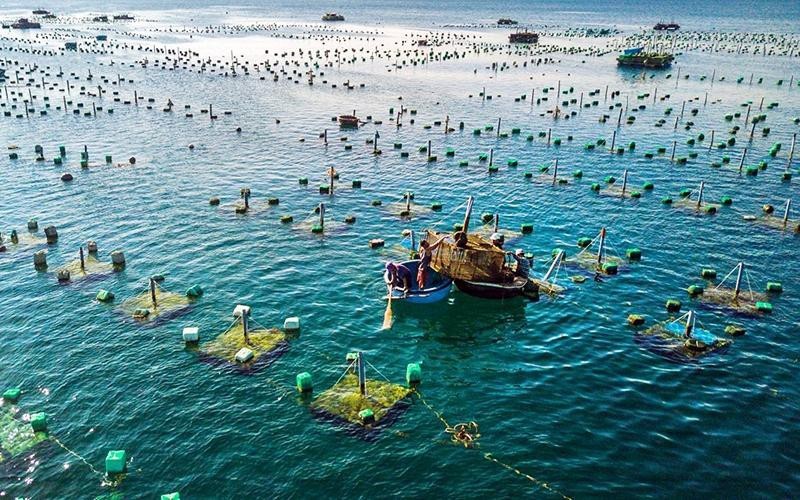 Engineering Challenges in Marine Aquaculture
Engineers can and must contribute to enhancing productivity while simultaneously improving sustainability. Among these challenges are:
salinity
wave energy
coastal storms
distance
waste management
nutrient efficiency
impacts on natural fisheries
competition with other human uses
Training Program for Aquaculture Industry
The aquaculture industry includes many fields such as aquaculture and seafood processing, protection of aquatic resources, management of seafood activities, aquatic pathology. By studying Aquaculture, students are equipped with:
Knowledge in designing, organizing and managing aquaculture activities, participating in research and technological improvement to create new products, providing technical advice on aquaculture development planning lasting; providing aquaculture services and technology transfer.
Professional skills such as skills in performing operations in seed production, rearing, environmental management and aquatic animal health; apply appropriate methods and data to serve research and aquaculture activities; consulting, transferring techniques for breeding, rearing aquatic animals, trading and managing in the field of fisheries with high efficiency. And be equipped with other soft skills.
Roles of aquaculture engineer
Graduated as an engineer in Aquaculture, can work in the following positions:
Cadres and civil servants in state management agencies such as: Ministry of Agriculture and Rural Development, Department of Agriculture and Rural Development, Department of Agriculture and Rural Development… and other ministries, departments and agencies. relate to.
Lecturers, researchers in universities, colleges, professional secondary schools, institutes, research centers: Aquaculture Research Institute, Institute of Agricultural Science, Institute of Oceanography, Institute of Genetics…
Employees work in enterprises of aquaculture, aqua feed production, production and processing of aquatic products.
Own a business, production and business establishments of aquatic products.
The most common function for the engineer is to maintain or improve operations at existing facilities. Engineers are the focal points for determining why current systems are not functioning as they should or developing new procedures for resolving existing issues.
Another role for the aquaculture engineer is the development of existing production facilities, such as ponds, tanks and raceways to internal hatcheries. Optimizing the construction of these facilities requires sound engineering principles, so the engineer is generally heavily involved from the project inception and design through to startup.
Aquaculture Engineering salary
The salaries of Aquaculture Engineers in the US range from $54,910 to $82,364.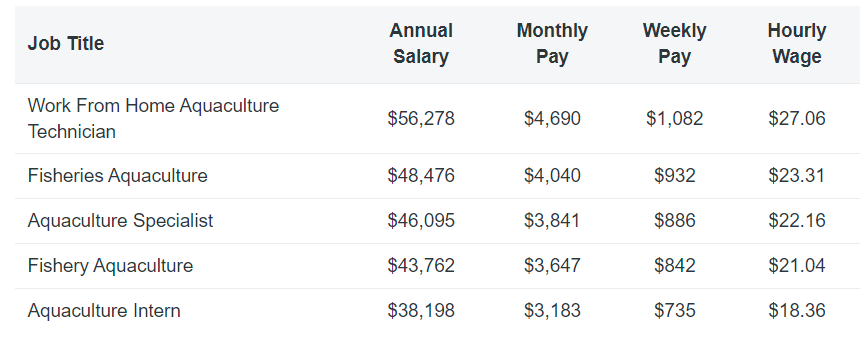 What are the essential advantages of aquaculture?
Aquaculture helps to reduce the reliance and impact on wild stock.
How does aquaculture help the economy?
Studies in different countries have shown the great importance of integrated fish culture in augmenting farm production, optimizing utilization of farm resources, generating employment, disposing of agricultural waste, producing adequate food for the population,