SWOT analysis is an effective way to implement the above motto. SWOT results help individuals/organizations to anticipate potential risks and find ways to face them to develop themselves and their organizations.
What is SWOT?
SWOT stands for the first letters of English words: Strengths, Weaknesses, Opportunities and Threats. The SWOT analysis model is a useful tool used to understand Strengths, Weaknesses, Opportunities and Threats with an individual, a project or an organization. organizations, enterprises.
SWOT Analysis. Simple but powerful tool for sizing up a company's resource capabilities and deficiencies, its market opportunities, and the external threats
Through SWOT analysis, individuals as well as organizations/enterprises will clearly see their goals as well as internal and external factors that can positively or negatively affect their goals.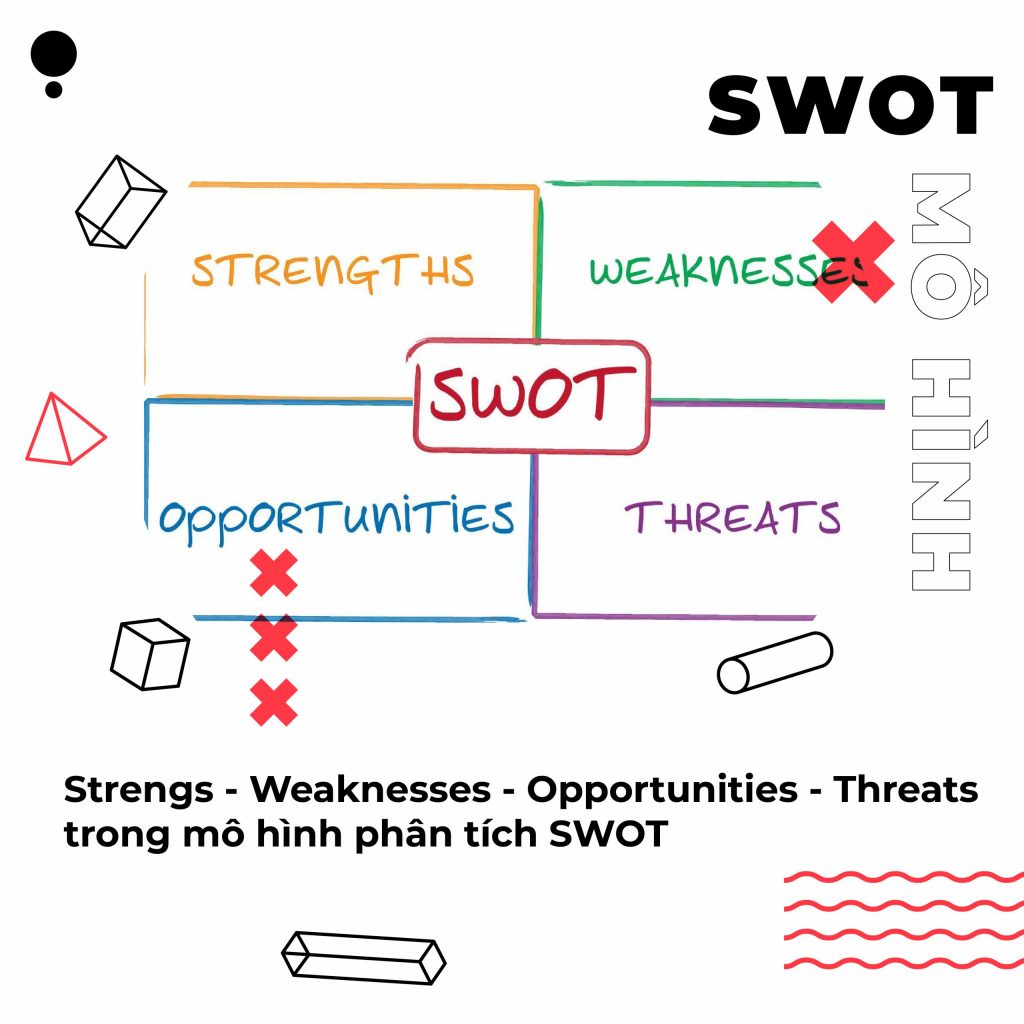 In which cases is SWOT applied?
SWOT analysis is often used in the following specific cases:
When solving problems about organizational structure, resources, labor productivity, corporate culture…
When developing a competitive strategy; new products, technologies, markets
When planning, making decisions
When evaluating product quality
When evaluating opponents
When developing a personal development plan
How to do a specific SWOT analysis?
SWOT is presented in the form of a matrix consisting of 2 rows and 2 columns and divided into 4 parts. Each section corresponds to Strengths (Strengths), Weaknesses (Weaknesses), Opportunities (Opportunities), and Threats (Threats).
How to write a swot analysis? Here is 4 parts to know first:
Strengths: These are internal factors that demonstrate the advantages of an individual/organization. These are the highlights to compare, compete with other competitors. Usually the factors of knowledge, health, appearance, forte, experience, relationship, personality … (for individuals), resources, assets, personnel, finance, product quality products, facilities, technology, etc. (for organizations and enterprises)
Weaknesses: These are aspects that negatively affect individuals/organizations, causing difficulties and obstacles in achieving goals and developing business. For example, that individual may be inexperienced, lack of confidence; For business organizations, it may be a product that does not meet the needs of customers, thin capital …
Opportunities: Factors such as business markets, society, policies, laws, consumer trends, recruitment trends, technology trends, etc., are classified as opportunities because of their positive factors. beneficial for individuals, organizations and businesses.
Threats: Are external factors (such as opportunity items) but bring disadvantages and difficulties in achieving the goals of individuals, organizations/enterprises.
Suggested questions to complete the SWOT analysis
For each item in the SWOT analysis itself, you can construct different questions yourself.
Swot analysis strengths
To find your strengths, you need to answer questions like:
What do you/your business do well and best?
What internal resources do you/your business have?
How does your organization own advantages in terms of people, knowledge, reputation, skills, relationships, technology…?
Are you/your organization financially in good shape?
Price, product quality are you good?
Does your company have a good background in culture and administration?…
What advantages do you have over your competitors?…
Swot analysis Weaknesses
Just like the question suggested above, if a sentence lacks strengths, it means that you/your organization have weaknesses.
You can also ask some more questions like:
Which job/step do you/the organization do the worst?
What does your business lack? (e.g. expertise, or access to information, or skills, or technology, etc.)
What negative comments do relatives, consumers and the market have about you/your organization?
What areas need improvement to accomplish your goals or compete with your strongest competitors?…
Swot analysis Opportunity
To identify opportunities, do you examine yourself to see what external influences would make your work/organization more favorable?
Some questions like:
How is the growth and development of the market?
What difficulties and obstacles are your competitors facing?
How beneficial is technological change?
Is customer feedback about your business positive?
Strengths in geopolitics, weather, climate… how?
How open are policies, laws, and cultural environments?…
Swot analysis Threats
You/the organization can answer the following questions:
Competitor?
What factors beyond your control could put your business at risk?
How does legal policy change have bad effects?
What are the consumer trends?
What's wrong with the new recruitment trend?
Is there a new product or technology launch that could make your product or service obsolete?…
Business swot analysis template example
The SWOT analysis does not cover the entire business, just the factors that may influence their ability to introduce a new product.
To get the most out of the SWOT, they have made specific statements in each category. For example, rather than simply list 'competitors' as a threat, they have included specific details about how their competitors are a threat.
Once you have read through this example SWOT analysis, you can delete the entries that do not relate to your business, and type your responses to build a SWOT analysis for your business.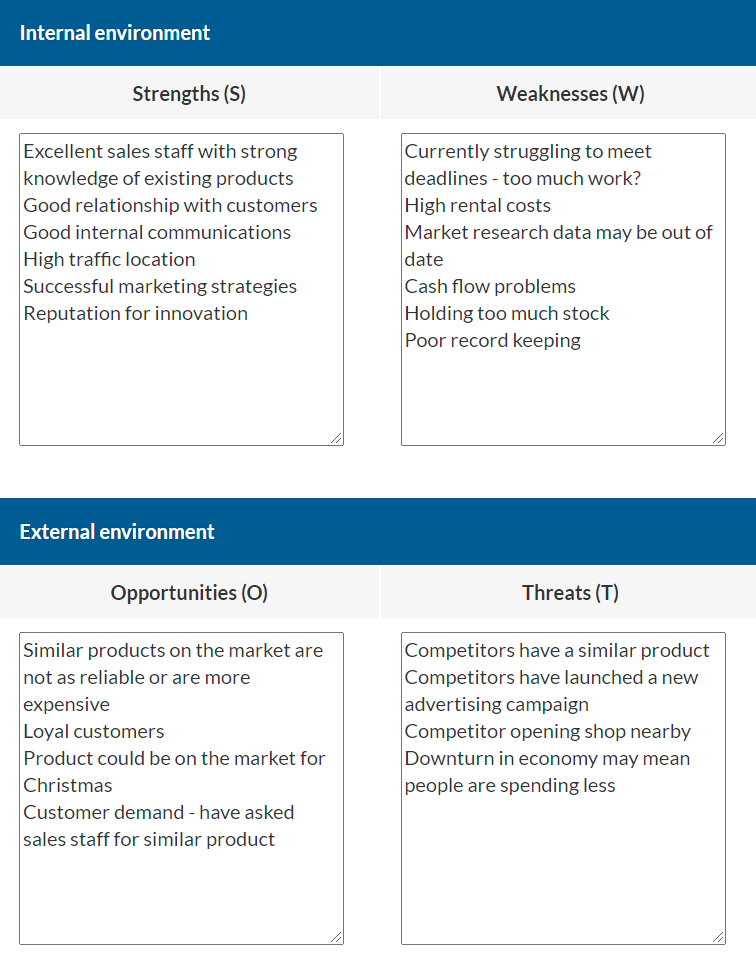 How to build a post-SWOT strategy?
After analyzing the 4 elements of the model in detail, you can come up with suitable strategies, including:
SO (Strengths – Opportunities) Strategy: You will choose opportunities that match your inherent strengths to develop a plan to develop yourself or the company.
WO (Weaks – Opportunities) Strategy: Try to overcome weaknesses to take advantage of opportunities.
ST (Strengths – Threats) strategy: Using the advantage to limit the risks affected by the environment.
WT (Weaks – Threats) strategy: Set up "defensive" plans to avoid environmental impacts.